Featured Success Stories
Gerardo
"Thank you LatinAmericanCupid!"
I met Esther on this site. We met in person in 2010. That same year I went to Peru to meet her and her family. From the time I met her I knew that she was the person that I wanted to spend the rest of my life with. On 12/30/2012 we got married. We are planning our future.together. Thank you latinamericancupid.
Jennifer
"Thank you LatinAmericanCupid!"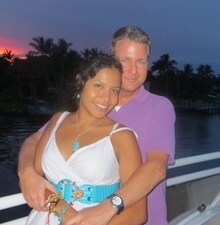 I found a really nice match He is a teacher as well as me. I am very happy He is a sweet heart, intelligent, romantic and kind man I ever know. I am very thankful for this website.
Rob
"Thank you LatinAmericanCupid!"
Selinet 26, who is actually Maria Alexandra Mason. We married on August 7, 2013.
Richard
"Thank you LatinAmericanCupid!"
If two people are honest and with good intentions, it is possible to find true love this way. We have found it :-)
Felix
"Thank you LatinAmericanCupid!"
After reading and seeing her profile I contacted my partner through this site late Dec 2012. We then exchange Skype information and started a friendship online via Skype through calls and web chat. Our friendship grew stronger and better and I decided to travel from the US to Dominican Republic to meet her in person and confirm what I already felt. It was 6 months after our initial contact that I took a week off and went to visit her. It felt like a continuation of what we had online and over web cam. We had a blast that week. Back to reality and back to the long distance dating. Now we planning a second trip in few months and starting the process to get her a Visa to the US. It all started here at this site and I am very thankful! Thanks!
Cupid Media, the Cupid Media Logo and LatinAmericanCupid are trademarks of Cupid Media Pty Ltd.